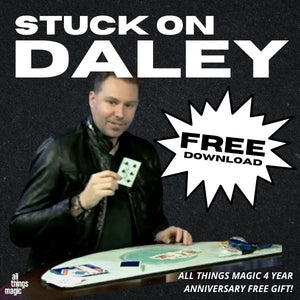 All Things Magic
Stuck on Daley by Luke Dancy
Regular price
$0.00
$0.00
Unit price
per
Luke has combined 2 of his favorite plots into one stunning routine. Learn an incredibly fair transposition that ends with a signed card appearing in an impossible location. For the first time, you will also learn the unpublished, impromptu version that Luke has been using for the last 10 years.

We hope you enjoy the Stuck on Daley download as a free gift during our All Things Magic 4 year celebration. Thank you for being part of the All Things Magic family! 
---
Share this Product
Stuck on Daley
Was great…thanks for everything you do
We're glad you enjoyed this free gift and appreciate your kind words. Thank you very much!
a good true story
In the immortal words of Maxwell Smart. (Some of you may have to google him.) This is an interesting effect. I didn't see the climax coming, and I doubt anyone else will. Some of you may wish to re-write the script, but there's nothing wrong with that. Not exactly a straight-up impromptu effect, but if you carry what you need--which shouldn't be a hardship--you'll be ready to do an effect that has a story to it...so it's more than just "the adventures of the props in the magician's hands"...and has a surprise ending too. Not hard to learn, either. Thanks to Mr. Dancy for making it available.
Fantastic
I just stumbled across this site, and to give it a try I just downloaded a free card trick, this one. I was actually stunned to see such a quality trick offer for free. I will continue to look for their emails and will certainly be looking to purchase in the future.
The bomb!
I love this working, not because its free but because its impromptu and its a worker as well !
---