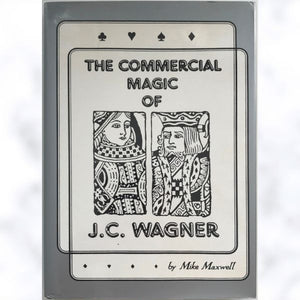 All Things Magic
Commercial Magic of JC Wagner eBook DOWNLOAD
Regular price
$19.95
$0.00
Unit price
per
"JC's Super Closer is worth the price of this eBook alone. This was one of my favorite books to read growing up and I know you'll love it too!" -Luke Dancy
Thirty-seven magical, audience-tested routines from one of America's outstanding bar magicians.

Highlights include:

J.C.'s Infamous Card Under the Drink - One of J.C.'s closely guarded secrets for many years; Entertainment Tacks - The card on the ceiling will put the bread on the table; Jumbo Torn and Restored Card - The Big Brother to J.C.'s now classic routine; The Wagnerian Miracle - Any card at any number at anytime.
Knock on Wood  An absolutely stunning coins-through-the-table which features the Wagner Click Pass, an invaluable coin move; J.C.'s Super Closer - a mind-numbing finale; Prediction Out of This World - Paul Curry's Masterpiece with a Wagner knock-out punch; Thoughts on The Gambler's Cop - The real work on concealing a card; The Assembly - A working professional's method for a classic effect; Whispering Wagner - Two thought-of cards out of thin air.

---
Share this Product
---