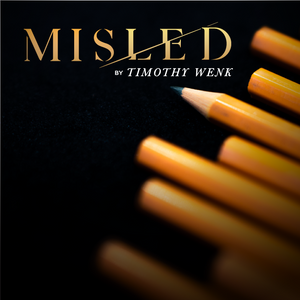 All Things Magic
Misled by Timothy Wenk
Regular price
$25.00
$0.00
Unit price
per
David Copperfield did this on television when we were kids. I still remember it vividly, like it was yesterday. He took a bill (which can be borrowed) and a normal pencil and penetrated the bill repeatedly. At the end, the length of the pencil MELTED THROUGH the bill like butter. This thing looks INCREDIBLY good.
More info:
A $100 bill and (in most cases) a pencil are borrowed from a member of the audience. The borrowed bill may be marked for later identification if desired. You proceed to use the pencil to pierce a hole in the center of the bill and there's no doubt that the pencil is truly through the bill. Watch the audience gasp (especially the bill's owner) at what happens next...you rip the pencil through the bill-the audience clearly sees the pencil rip through and they can hear the sound of paper ripping! Yet, somehow the bill is left completely unharmed!
You offer to repeat the effect, this time the pencil mysteriously melts through the bill in slow motion-it looks unbelievable! Both the pencil and the bill may then be handed out for complete examination. Comes with very special gimmick, pencil and detailed instruction booklet. 
---
Share this Product
A classic that you need to own!
This was the first ever pen/pencil through bill I ever owned. The bright yellow pencil offers such great contrast against any bill so it's perfect for stage, close up or social media. One of the most visually pleasing illusions I've ever seen or performed
---