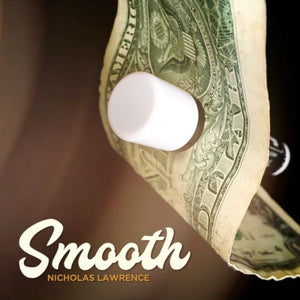 All Things Magic
Smooth by Nicholas Lawrence
Regular price
$39.95
$0.00
Unit price
per
The smoothest, most stunning "pen through dollar" trick ever created doesn't use a pen. Meet your new favorite pocket trick!
Here's what it looks like: You see a chapstick melt through a dollar. You see it melt back out. And then you can examine everything... and finally your brain melts. I mean.. what do you say after seeing something like that?!?
The penetration looks better than ANYTHING similar that has come before it. You have to see it to believe it. In the box, you will receive everything you need to perform this absolutely stunning illusion anywhere you go.
---
Share this Product
Smooth
This is a smart and smooth effect! The gimmick is well made and the moves involved are pretty smooth also. The explanation was well recorded and Nicholas goes over everything and every angle as good as you can expect. So glad I finally pulled the trigger on this and will be getting out there and trying to perform in the real world as soon as possible! The visuals are SMOOOOOOTH!
Omg visual as f@&k
I love this pocket illusion so much. It's so well made and super easy to perform. Very well taught instructions. The visuals are crazy good !
---